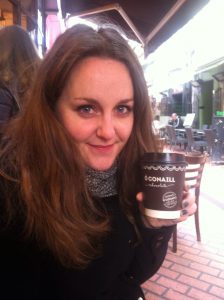 Ciara Conway is a second year PhD candidate in music at Queen's University Belfast. Her research focuses on the Irish playwright John O'Keeffe and his career in music-theatre in London at the end of the eighteenth century. She will be speaking about her work at the ECIS Annual Conference on 8-9 June 2018. 
Favourite archive:
The British Library, London
Favourite museum, gallery or heritage site:
The Victoria and Albert Museum, London
Most exciting place or time in the eighteenth-century:
The London and Dublin theatres, assisting on new plays and rehearsing new music. Nothing would excite me more than being part of the production team alongside directors Thomas Sheridan, John Rich, or Thomas Harris.
Best online resource:
ECCO or British Newspapers 1600-1900. Archive.org also has some hidden musical gems.
Best book of 18th century interest:
Roger Fiske's English Theatre Music in the Eighteenth Century (Oxford: Oxford University Press, 1984)
What eighteenth century figure would you most like to have a drink with?
This is subject to change, but at the moment I would like to chat with the Italian soprano Giovanna Sestini (1750-1814). Having a career that encompassed theatres in Florence, Lisbon, London, Dublin, and Edinburgh, she no doubt has some insider information that would ruffle some feathers.
What will you be talking about at the ECIS Annual Conference 2016?
My ECIS paper will focus on the dramatic role music plays in O'Keeffe and Shield's Irish based comic operas The Poor Soldier (1783) and The Wicklow Mountains (1796). Passing comments tend to reason that the music was incidental, contributing little or nothing to the work's dramatic action. My paper will argue quite the contrary.