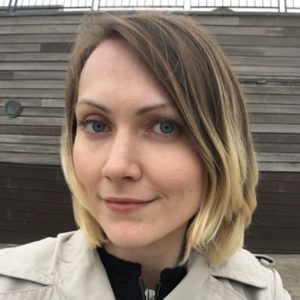 Kristina Decker is a PhD student at University College Cork. Her research looks at Mary Delany and the female experience in eighteenth-century Ireland and she will be speaking about her work at the ECIS Annual Conference on 8-9 June 2017. You can find out more about Kristina by following her on twitter.
Favourite archive:
My favourite archive would have to be the British Library. I spent a lot of time there while I was completing a MA in Eighteenth Century Studies at King's College London. It is a fantastic place to work and the sheer expanse of their collection is amazing. Whenever I'm in London I always plan a visit.
Favourite museum, gallery or heritage site:
It's so hard to choose! I've spent so many hours wandering through the British Museum. I love the Enlightenment Gallery – they even have some of Mary Delany's original 'paper mosaiks' on display there! But another favourite would be the John Soane museum. I first visited it when I was a young teenager and his rather eccentric house and collection really captivated my imagination!
Most exciting place or time in the eighteenth-century:
These questions are so hard! Even though my current research focuses on Ireland, I would have to say London throughout the eighteenth-century – it was buzzing! I'd give anything to walk down the Strand during the eighteenth century.
Best online resource:
It would have to be ECCO. It's an incredible resource. I can spend hours on there – I have to be careful not to get lost in it!
Best book of 18th century interest:
It's a tie. I first encountered Amanda Vickery's The Gentleman's Daughter: Women's Lives in Georgian England and Behind Closed Doors: At Home in Georgian England during my master's degree and they massively influenced the direction of my own research.
What eighteenth century figure would you most like to have a drink with?
I have to say Mary Delany! Is it possible to have a drink with her at different times of her life? I want to meet the young vivacious widow Mary Pendarves, the Mary Delany of Delville, and Mrs Delany the widowed artist. After reading her letters, I feel like I know her already. I hope that I'd measure up to her ideas of decorum and propriety and wouldn't feature as a negative postscript in one of her letters!
What's so great about the eighteenth century?
I don't know where to begin! The eighteenth century was so vibrant! There's the amazing architecture and literature. There's the enlightenment, the birth of the novel as a literary genre, the industrial revolution, the American and French Revolutions… there was so much going on! What's not great!? Ok… apart from poverty and disease.
What will you be talking about at the ECIS Annual Conference?
I am currently in the first year of my PhD at University College Cork. My research focuses on Mary Delany's letters from the period that she spent in Ireland. I am particularly interested in elements relating to decorum, propriety, the home (especially gendered space), and sociability.
The paper that I will be presenting at the 2017 ECIS focuses on Mary Delany's first trip to Ireland in 1731. Mary Delany (then Mary Pendarves) liked Ireland so much that she extended her visit from six months to eighteen months. In her letters, Mary Pendarves describes Ireland with a fresh and very detailed eye. Using these letters as a window into her experience, my paper investigates Mary's first encounters with Ireland. Her first impressions of the country, which, apart from the odd bad dancer, were generally very positive! My paper will discuss her experience of Ireland as a female member of the elite and how she perceived Ascendancy Ireland – as a place she could easily negotiate.