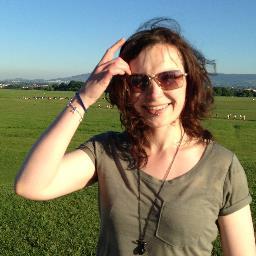 Frances Nolan is an IRC Doctoral Scholar at University College Dublin. Her research looks at female property rights and the role of women in the Williamite War and confiscation in Ireland. She is also one of the organisers of the 2014 Tudor and Stuart Ireland Conference which will be taking place in NUI Maynooth on 29 & 30 August 2014.
Favourite museum, gallery or heritage site:
John Rylands Library in Manchester.

Most exciting place or time in the eighteenth-century:
I think the exiled Jacobite Court at Saint Germain in the 1690s and early 1700s would have been an interesting place.
Best online resource:
British History Online and ECCO.
Best book of 18th century interest:
J.G. Simms, The Williamite Confiscation in Ireland, 1691-1703; it is the foundation stone of my own research, despite its age. I also like S.J. Connolly's Religion, Law and Power: The Making of Protestant Ireland, 1660-1760. I admire the way in which Connolly interrogates and challenges accepted ideas on the Protestant ascendancy. I also greatly admire Mary O'Dowd and Margaret MacCurtain's work on the history of women in Ireland.
What eighteenth century figure would you most like to have a drink with:
Frances Talbot and/or her sister Sarah Churchill.
What's so great about the eighteenth-century?
My research focuses largely on the 1690s so I would have to say it is the fact that it's long!
What will you be talking about at the ECIS Annual Conference 2014?
My research focuses largely on the role of women in the Williamite confiscation in Ireland, examining the impact of female property rights upon the wider landscape of forfeitures, grants, resumption and purchase.
The paper I will present at the ECIS Conference this year, deals with women who were waived for domestic and foreign treason during and in the wake of the Williamite war in Ireland. In the course of the 1690s, twenty-three women were attainted for high treason; fourteen for domestic sedition and nine for treason 'beyond the seas'. The lists of outlawry include prominent female figures like Frances Talbot, Philadelphia O'Brien and Honora Sarsfield, but they also include seemingly unremarkable names, like the six Brenan women from Kilkenny, the wife of a yeoman, the mother of a merchant, and three female minors. My paper explores the motivations for the attainting of such an eclectic swathe of 'Jacobite women', illustrating that prosecutions were fuelled by a mixture of familial, political and material concerns.