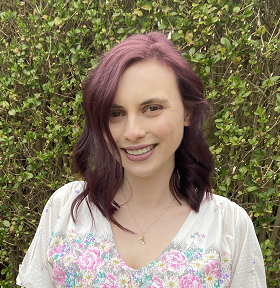 Maria Zukovs is a PhD Candidate at the University of St Andrews. Her research explores Dublin press coverage of the French Revolution and the impact it had on contemporaneous society, culture and politics. She will be speaking about her research at the ECIS Annual Conference on 17-18 June 2022. You can follow her on Twitter @m_zukovs.
Favourite archive:
The pandemic has made accessing archives difficult and I have done a good portion of my work using online resources. The British Library, however, provided me the first opportunity to work with physical copies of the newspapers I study, which was a really special experience.
Favourite museum, gallery or heritage site:
I don't think I can choose just one, it is a tie between the memorial of the Battle of Waterloo, Titanic Belfast or the National Museum of Ireland – Archaeology.
Most exciting place or time in the eighteenth-century:
I would have to say the French Revolution, especially around the initial outbreak in June 1789. It would have been fascinating to be a fly on the wall when the Tennis Court Oath was sworn.
Best online resource:
As someone whose primarily field is book history, the English Short Title Catalogue (ESTC) is the resource I consult most often.
Best book of 18th century interest:
Jane Austen at Home by Lucy Worsley. As a fan of Austen's work I was intrigued by the approach Worsley took in looking at her life through the houses she lived in. I was not disappointed and I think I read it in about 2 days.
What eighteenth century figure would you most like to have a drink with?
It would have to be either William Drennan or Olympe de Gouges.
What will you be talking about at the ECIS Annual Conference?
My PhD research focuses on Dublin press coverage of the French Revolution between 1788 and 1794. I study both independently-run and government-funded newspapers to understand what, if any, impact the French Revolution had on Dublin society, culture and politics at that time. My project seeks to understand the amount and scope of French Revolutionary news disseminated in Dublin in the early years of the Revolution. Using newspapers as my main primary source allows me to look beyond well-studied figures like Theobald Wolfe Tone and organisations like the Society of United Irishmen and focus more on individuals who have not been the subject of in-depth study. The paper I will be presenting looks at the sources that provided news of the French Revolution to the Dublin press. It will specifically be challenging some long-held notions that much of the foreign news in Irish newspapers was directly copied from London newspapers. Instead, an independent infrastructure allowed news to move between France and Ireland. Ireland had a robust trade with France and there were large communities of French Protestants in Dublin and Irish Catholics in France. Numerous instances exist of newspapers reprinting letters sent from people in France, providing eyewitness account of the Revolution, to their 'friend in Dublin'. This furthers our understanding of how news moved throughout Europe at a time of significant political change and how news of the French Revolution was able to permeate other nations.