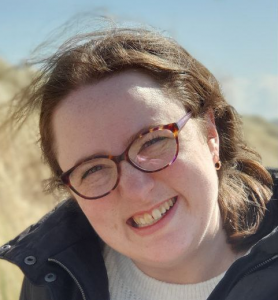 Eliza Spakman is Research MA student in Literary Studies at the University of Groningen, the Netherlands. Her research explores Late Eighteenth-Century Women's writing, specifically Maria Edgeworth. Her wider interests include the Irish Enlightenment, Female Enlightenment thinking and networks, the Bluestocking circle, and Mary Wollstonecraft. She also wrote a paper on the Great Frost last year in affiliation with the 'Heritages of Hunger' project. She loves intellectual history as much as literary studies, secretly. She will be speaking about her research at the ECIS Annual Conference on 17-18 June 2022. You can follow her on Twitter @elizastudying.
Favourite archive:
As an MA student outside of Ireland and the UK, I unfortunately do not have access to many archives, so I do not yet have a fervent favourite, but based on the sources I have used, it would have to be the NLI or the Bodleian Library!
Favourite museum, gallery or heritage site:
Within the Netherlands, the Mauritshuis in The Hague which displays a lot of lovely Golden Age art (Rembrandt, Vermeer, Potter, etc.). Outside the Netherlands, the British Museum, which has something for every mood I could possibly be in.
Most exciting place or time in the eighteenth-century:
I would have to say the 1790s in London or Dublin. It is the period that first got me passionate about the eighteenth century because it is such a turbulent time with so many ideas, opinions, etc. floating around.
Best online resource:
I am going to be boring and say ECCO, which was especially helpful when I was writing a paper on the Great Frost last year!
Best book of 18th century interest:
I like Roy Porter's Enlightenment, but also Amanda Vickery's The Gentleman's Daughter: Women's Lives in Georgian England. And of Irish interest, I really enjoyed Claire Connolly's A Cultural History of the Irish Novel, 1790-1829. Sorry, that's three.
What eighteenth century figure would you most like to have a drink with?
Obviously, Maria Edgeworth. There are so many ideas about what she thought and believed, but I would love to know what she is like as a person!
What will you be talking about at the ECIS Annual Conference?
My paper for the ECIS 2022 conference is based on the first chapter of the dissertation I am writing for my Research MA (though in terms of requirements, the dissertation is more like an MPhil one) on masculinity in the works of Maria Edgeworth. This topic has been studied very little even though masculinity was central to many aspects of eighteenth-century society, from politeness and morality to national identity and politics, and can therefore give us a different perspective on Edgeworth's works and ideas. My paper is specifically about 'Forester', one of Edgeworth's Moral Tales, which tells the story of a young man who is very sceptical about contemporary social norms and gentlemanliness. Because he is so sceptical, the tale addresses not only what it means to be a good man, but also why. My paper will thus look at what the ideal man is according to this story, and how it engages with contemporary debates surrounding masculinity, particularly those surrounding politeness and primitivism. 'Forester' is far from a boring didactic tale, but rather a complex one, that touches on many things Edgeworth felt very passionate about, amongst which, being a proper man and what that looks like, but also empathy, the power of the printing press, and obviously education.