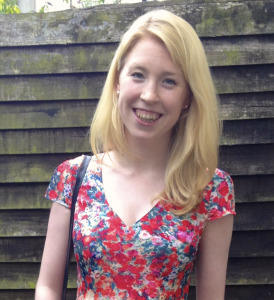 Amy Prendergast is a committee member of the Eighteenth-Century Ireland Society and an Irish Research Council Postdoctoral Fellow at Trinity College Dublin. Amy's research interests include literary history and associational life, and she is currently working on her first monograph which will look at literary salons in France, Britain and Ireland.  You can find out more about Amy's research by visiting her webpage here, or following @avprendergast on twitter.
Favourite archive:
The Public Record Office of Northern Ireland has provided me with so much interesting material since the start of my eighteenth-century research. The new PRONI is a model of efficiency and a wonderful workspace, but I still have a sense of nostalgia for the old PRONI with its cheery and subsidised prefab canteen.
Favourite museum, gallery or heritage site:
Emo Court in Co. Laois is a fantastic place to visit. In addition to the wonderfully impressive building designed by James Gandon, the gardens and parkland are also very remarkable and a lake walkway that opened earlier this year has proven hugely popular among local people.
Most exciting place or time in the eighteenth-century:
The late 1770s and early 1780s were an exciting time for many women. As Ireland struggled to gain parliamentary independence, an atmosphere was created that allowed women to assert their own independence and to promote the importance of female participation and visibility within the public sphere.
Best online resource:
My choice for best online resource is undoubtedly ECCO. It manages to be extremely valuable both as a research aid and as a teaching resource.
Best book/history of 18th century interest:
Dena Goodman's Republic of Letters was one that I encountered during the first semester of my Masters degree, and it informed a lot of my early thoughts on eighteenth-century cultural history, as well of course as being a very influential work itself.
What eighteenth century figure would you most like to have a drink with:
I would love to be able to visit Moira House and have a drink with its fascinating salon hostess Elizabeth Rawdon, Lady Moira. I would settle for a cup of tea, but wouldn't mind sampling some of the Rawdons' large collection of claret, 137 dozen bottles of which were consumed in 1790 alone.
What's so great about the eighteenth-century?
The survival of so many eighteenth-century homes and public buildings can be a great inspiration for students and researchers of the period. A conference at Lucan House, the site of Elizabeth Vesey's literary salons, proved the original catalyst for my own research, while undergraduate students I accompanied on a field trip to Marsh's Library enjoyed engaging with original eighteenth-century texts in their contemporary environment. Of course the many wonderful eighteenth-century literary works are also a big part of what's so great about the period for me. Engagement with material by the century's literary giants proves endlessly rewarding, while poetry and prose by lesser-known female authors continue to excite me. The wealth of archival material available for the eighteenth century is another of the period's great attractions. The importance of letter writing at the time and the wealth of information contained in these exchanges can also make for fascinating reading, and there is certainly that occasional joy of discovering new material while trawling the various archives.
What your role in ECIS?
I joined ECIS in 2010 and am a recently elected committee member.