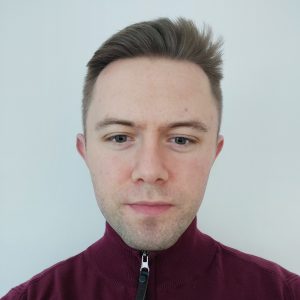 Luke Murphy is a PhD candidate at Dundalk Institute of Technology. His research focuses on the history of cartography and landed estates in the region of north County Louth. He is particularly interested in why estate maps and surveys were being commissioned at certain moments in time, their uses in estate management and how estate cartography both captured, and contributed to, changes taking place on landed estates during the eighteenth and early nineteenth centuries. He will be speaking about his research at the ECIS Annual Conference on 16-17 June 2023. You can follow him on Twitter @LukeMurphy16.
Favourite archive:
I would have to go with Louth County Archives. Sitting in a nineteenth-century jail makes research that bit more atmospheric.
Favourite museum, gallery or heritage site:
I love an open-air museum so the Ulster Folk Museum in Cultra is up there. Also, the Dublin Writers Museum and the National Gallery of Ireland.     
Most exciting place or time in the eighteenth-century:
For cartography it has to be Dublin in the 1750s with the arrival of the French school of land surveyors.
Best online resource:
The Longfield Map Collection (NLI) and the Irish Historic Towns Atlas.
Best book of 18th century interest:
John Andrews Plantation Acres, a book that should most definitely be reprinted!
What eighteenth century figure would you most like to have a drink with?
I'm obliged to say John Rocque, but outside of my research, Henry Joy McCracken.
What will you be talking about at the ECIS Annual Conference?
With the consolidation of landed estates at the beginning of the eighteenth century and the changing social, political and economic landscape, there came an increasing importance placed on accurate property boundaries. Landlords and agents were interested in who held land, its location, and the quality and quantity of their holdings. This resulted in a demand for maps that developed into a new genre of cartography. Estate mapping became a competitive private enterprise with an expanding market and a growing profession of land surveying which boomed from the 1750s onwards.
Based on a corpus of over 90 manuscript estate maps documented as part of ongoing PhD research, my paper will look at the role of estate cartography in estate management, focusing on the eighteenth-century Anglesey, Fortescue and Tipping estates in north County Louth. Furthermore, I will discuss the regional importance of north Louth and the estate landscape that emerged from the events of the seventeenth century. Due to the very nature of these maps, there is a need to delve deeper into ancillary sources, namely the material found in estate archives, which reveal why maps were being made and what they capture at certain moments in the history of the estates. By taking these alternative routes to contextualise and understand estate maps, this consequentially allows us to investigate maps as tools in estate management, and tap into the lived experience of the region's strata of inhabitants.