What was the Georgian Pop Up Museum? It was a locally produced, volunteer led and run project showcasing Limericks rich Georgian history and built heritage in one of Limericks oldest buildings (c. 1770). The project was designed, conceived and run by Dr Ursula Callaghan, Historian and Cáit Ní Cheallacháin, Conservation Architect, members of the Limerick Chapter of the Irish Georgian Society. Research and planning began in August 2013 and funding was awarded in December under the 'Made in Limerick' initiative for the National City of Culture 2014.
Our goals were twofold, firstly to showcase Limericks Georgian history and built heritage and secondly, to attract people who might not normally visit a museum and also to remove the sense of elitism often associated with the term 'Georgian'.  Our only artefact was the building itself (four storeys over basement) with a unique staircase (still intact) built in 1770 in Rutland Street before the building of Newtown Pery.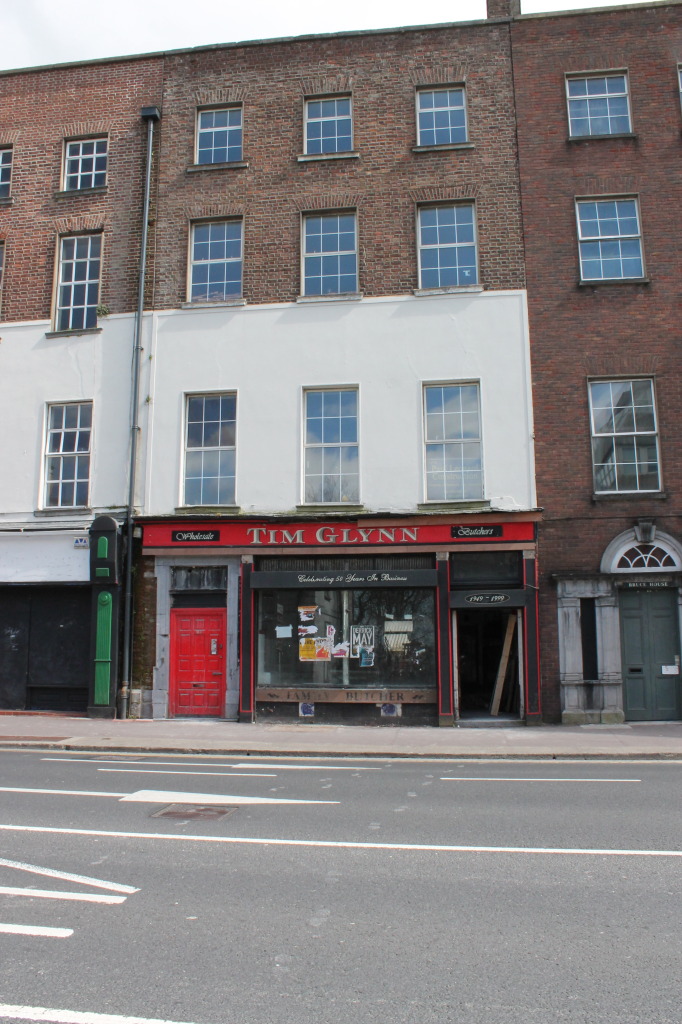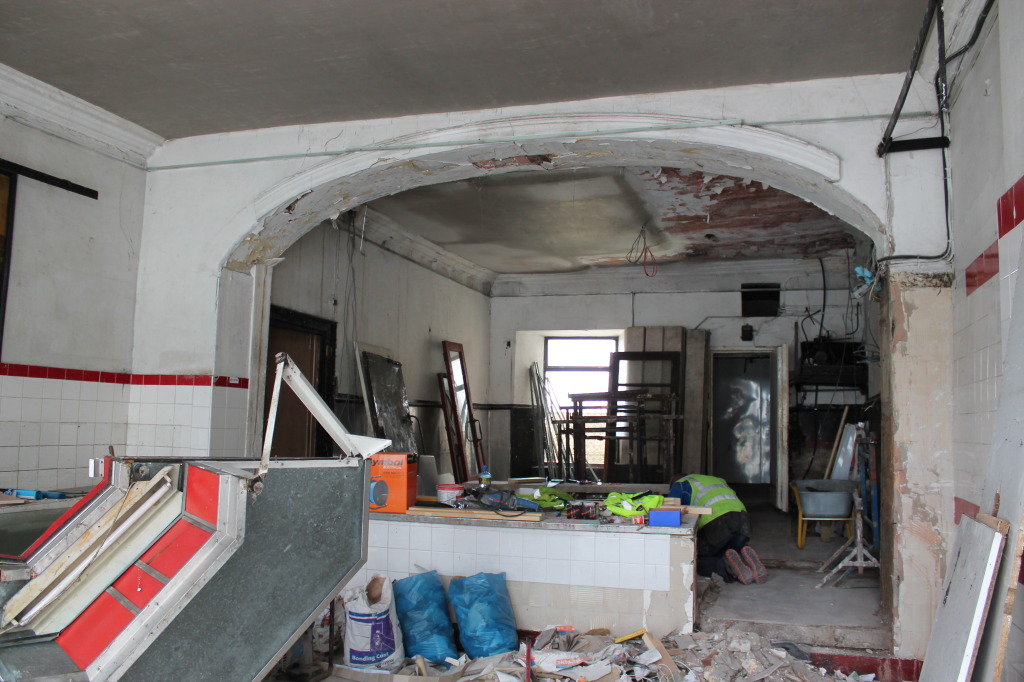 Limerick City Council currently owns the house but it began as a private home. By 1820 it was a hardware store with living accommodation upstairs. It was designated a commercial property until 2006. The house was sold with a number of other properties on the block to a property developer that ended up in NAMA. However, 2010 Limerick City Council bought the block again and is currently actively looking at how best to use these buildings.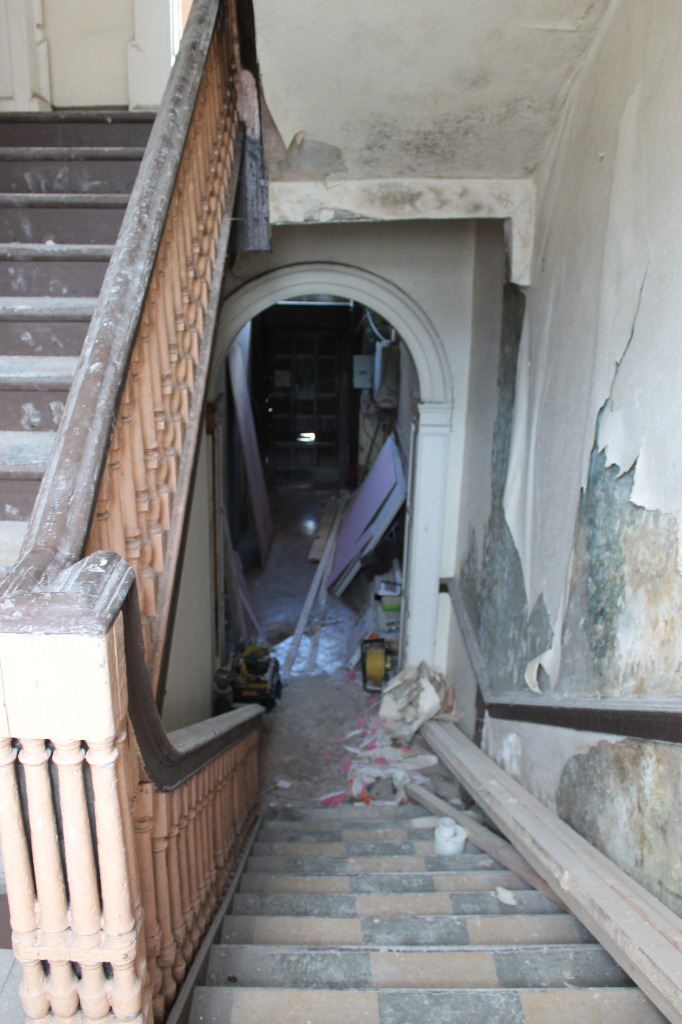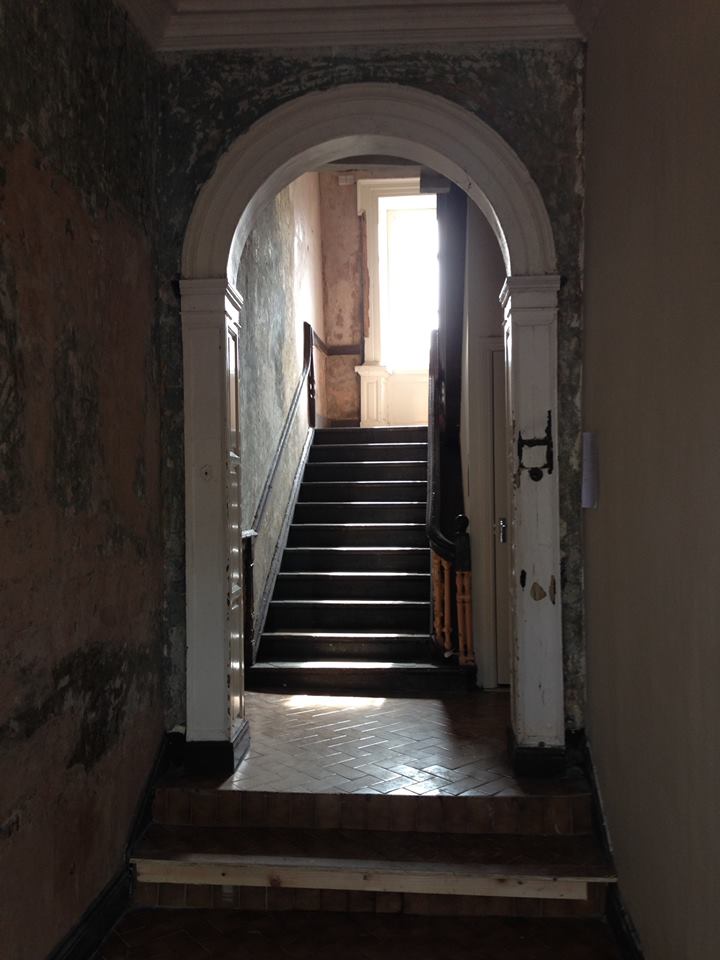 Our first major milestone was achieved in late January 2014, Cáit (Conservation Architect) and the builder began working on making the house safe. The house had been derelict for a number of years and between leaks, dry rot, electricity and floor issues we eventually were able to bring in local volunteers in April. For the next eight weeks over twenty volunteers stripped wallpaper, painted floors and ceilings, scrubbed and cleaned the premises getting ready for the launch on June 7.  A further 15 volunteers came on board to help run the exhibition from June through August.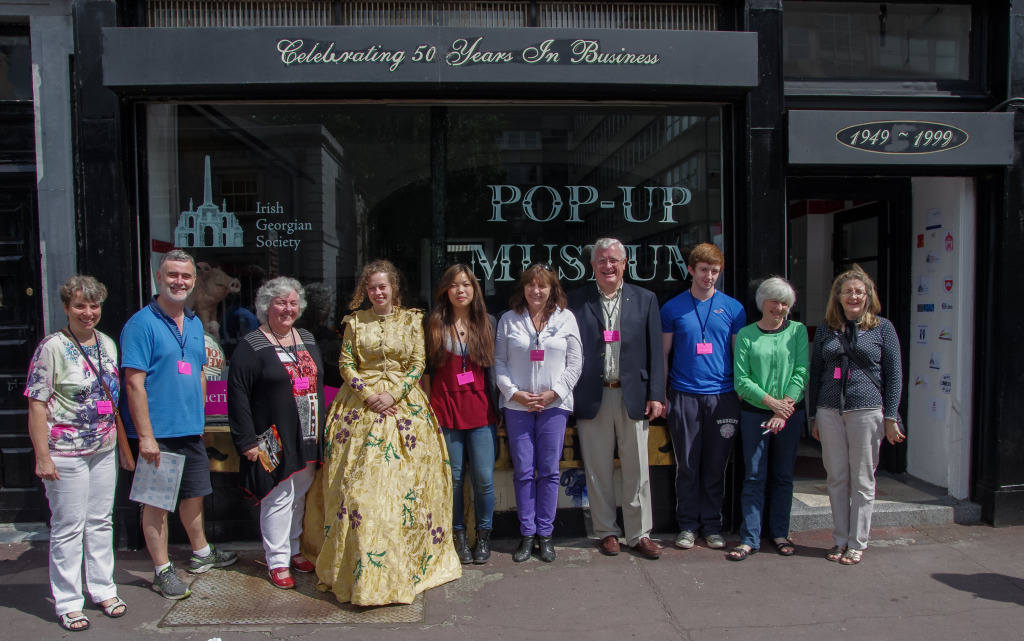 Eighteenth-century Limerick experienced a major building boom, which saw a huge influx of tradespeople and a new middling sort settling in the evolving urban centre. Limerick was built by and for tradespeople and its local economy was strongly influenced by the food provisioning trades, indeed one could say it was all about the food they ate and the clothes they wore.
The project ran three different exhibitions simultaneously on two floors. The ground floor displays were informal and offered and eclectic mix of photographs (Ranks exhibition), posters, cards, billheads, ceramics, stickers, felt pigs and told the story of Limerick's food provisioning history. Local artist Moya Ni Cheallaigh volunteered her wonderful impressions of Limericks coal holes and boot scrapers. Eric O'Neill blacksmith artist also displayed items highlighting Limerick's ironwork.
Two exhibitions were held upstairs. The main room showcased and placed the history of the house in its eighteenth century context with a series of graphic panels and enlarged prints of the city helped decorate the walls.  The centre piece for the room was on the floor and was a large map of the city based on the 1769 Christopher Colles plan of Limerick city.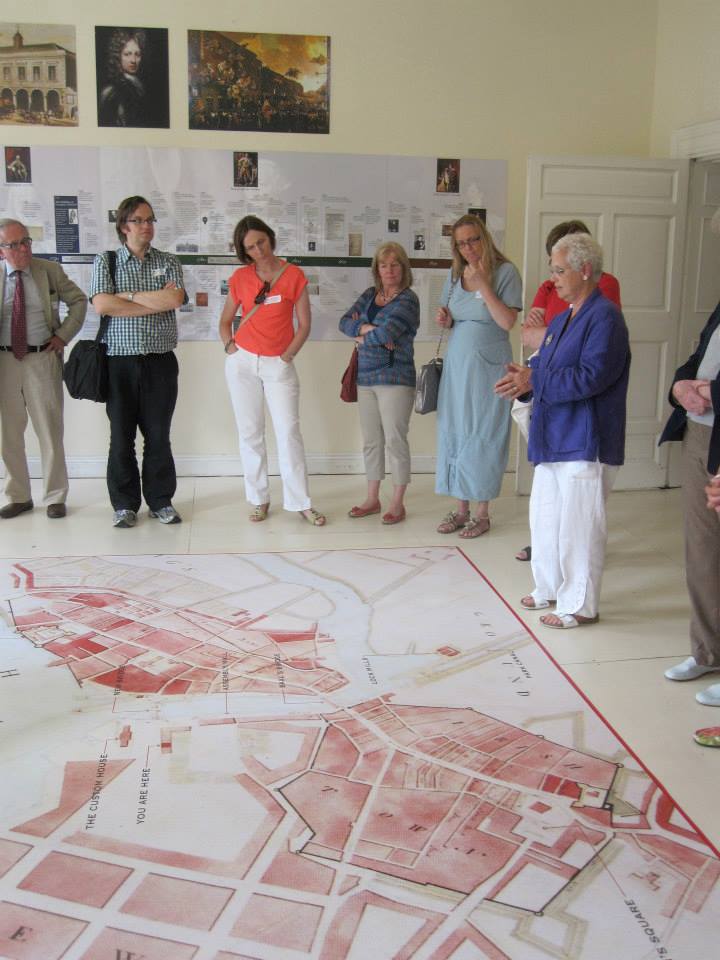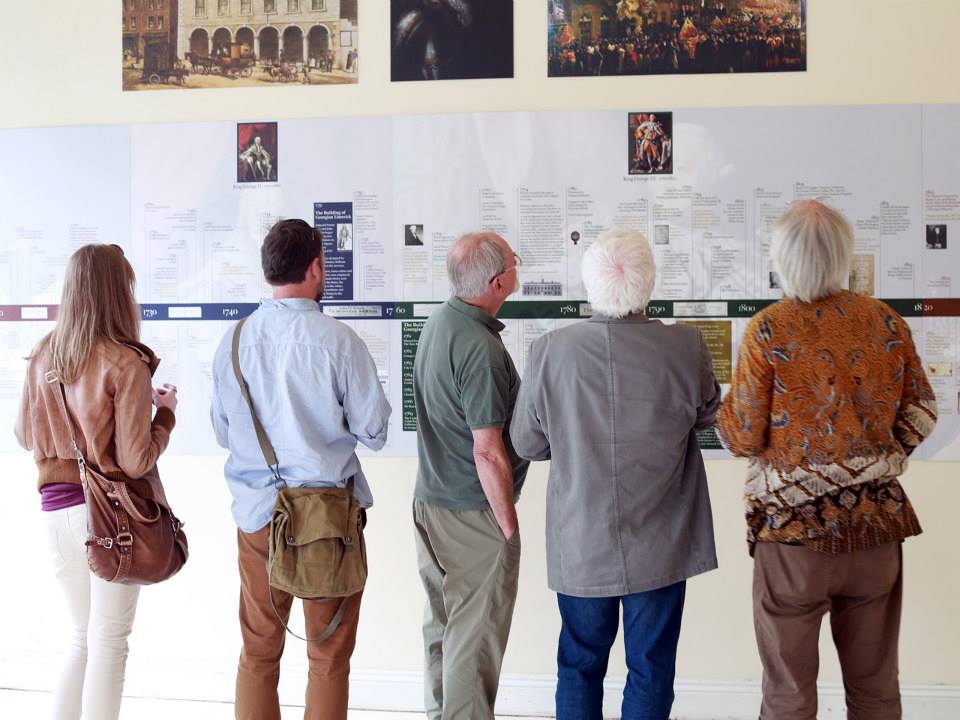 A giant Georgian timeline filled one wall of the room. Using Limericks eighteenth century print culture, newspapers, books, and trade directory putting Limerick in its international and national context.  The final exhibition space was dedicated to Limerick as a garrison town. A mix of graphic panels devised with Sgt. Michael Deegan and pen and ink drawings on military uniforms volunteered by a young local artist Mike O'Brien.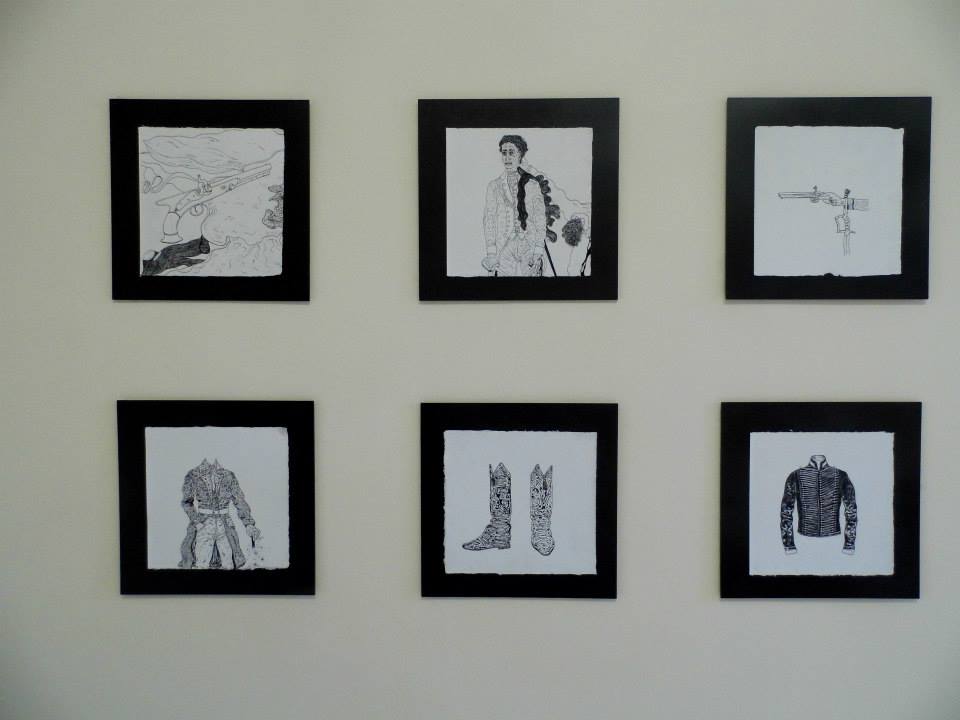 Von Goethe said 'Be bold and might forces will come to your aid' and he was right, 3000 people came to see our project over twelve weekends and one evening each week, a total of thirty-one days. Our visitors were in the main local but we had visitors from all over the world and all had an opportunity to share their stories about Limerick in a very dynamic way. The age demographic appears to have been male and under forty-five. Sundays were very busy with families; we devised a game for under sevens to enable parents to have time to enjoy the exhibition. Our volunteers were a disparate group and were aged 16 – 75. Their backgrounds were students, old age pensioners, teachers, archaeologists, painters, farmers, doctors, architects, administrators, historians, geographers, actors, engineers, handymen, butchers, artists and graphic artists. I cannot stress strongly enough the effect that the mix of collaboration and volunteers had on our project. We met a generosity of spirit, from all those that participated that was infectious and we are extremely grateful for their time and input. We could not have achieved our goals without the support of a number of organizations, including Limerick City Museum and Archives, Limerick City Library, Mary Immaculate College, Bundlebee, and Sgt. Michael Deegan, Sarsfield Barracks.
There was nothing Pop Up about the Georgian Pop Up Museum. It was a labour of love and dedication with thirty-five loyal and dedicated volunteers. A museum without artefacts, and yet we told a story of Limerick's history and built heritage in a unique way to a whole new audience.  There was no shortage of ideas, we were rich in our knowledge, and we thought outside the box but were constrained within a tight budget. Our legacy to the city is what we learnt along the way and that is that knowing about our past brings new revelations and understanding and offers an opportunity to believe in our city in a different way. We have a rich past behind us and this past offers us a solid foundation on which to step into the future and be creative and courageous. Dare to Dream, Dare to Dream Big, for if you built it – they will come.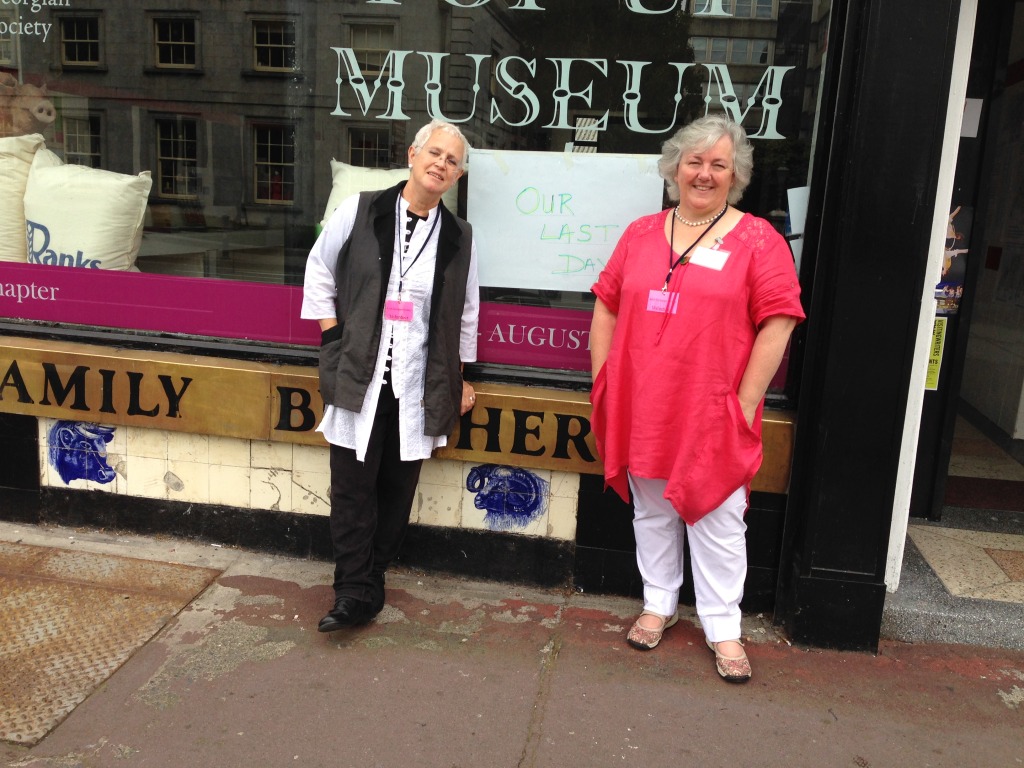 —  Text by Ursula Callaghan. All photographs taken by Ursula Callaghan and Deirdre Power.
If you would like to contribute a piece to the ECIS blog, email Suzanne & Lisa at [email protected].