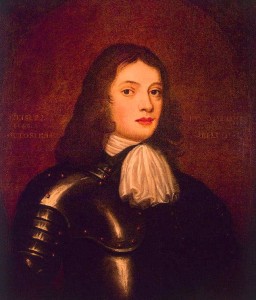 This is a picture of William Penn at the age of 22. Penn is well known as an early Quaker and founder of the colony of Pennsylvania, which is named after his father, Sir Admiral William Penn (1621-1670).
This summer, I am going to the Historical Society of Pennsylvania to look at Penn's papers thanks to a travel grant from the American Society for Eighteenth-Century Studies. As such, I thought it would be a good idea to put together a post on the topic of Penn.
More importantly, this topic gives me a very good reason to tell you that Youghal Celebrates History – a voluntary group dedicated to preserving and promoting the heritage of Youghal – will be holding its 12th Annual Conference on the theme 'A Gathering of Friends: A celebration of the history of the Quakers'. The conference will take place on 19-21 September. There are many interesting papers on the programme (including two on Penn), and a number of other activities will be organised to coincide with the event, including a free walking tour of the town.
The Penn family had many links with Ireland. In the 1650s, Penn's father was granted estates in Cork which had been confiscated from the MacCarthys. As a result, Penn lived in Cork for a time with his family at Macroom Castle. It was there that Penn met the Quaker missionary Thomas Loe who is thought to have introduced him to Quakerism.
After Charles II was restored to the monarchy in 1660, the castle and lands of Macroom were restored to the MacCarthys. The 1662 Act of Settlement compensated the Penns with Shanagarry Castle and other lands in Cork. In 1666, Penn visited Ireland to attend to his family's estates as a result of these developments. If you attend the conference in Youghal, you will have the option of going on a visit to Shanagarry Castle – or Penn Castle as it often called today.
Penn returned to Ireland in 1669-1670 and he kept a journal of his visit on this occasion. You can access the journal for free from University College Cork's CELT resource.
From May to November 1698, Penn was in Ireland again to tend to his Cork estates, and to participate in a missionary tour of the country which encompassed visits to Wexford, Waterford, Clonmel, Youghal, Cork, Bandon, Charleville, Limerick, Birr, Mountmellick, Edenderry and Lurgan. This was Penn's final visit to Ireland.
If you are interested in learning more about Penn, there are a number of biographies available on archive.org. Here are just a few of them:
Fisher, Sydney George, The true William Penn (Philadelphia, 1899).
Hodges, George, William Penn (Cambridge, 1901).
Holland, Rupert, William Penn (New York, 1915).
Hughs, Mary, The life of William Penn (Philadelphia, 1828).
Penn, William, A Memoir of William Penn (Philadelphia, 1870).
Or, if you would like something a bit more up to date there is a great biographical note on Penn on the Historical Society of Pennsylvania's website. If you have access, you should also take a look at John Bergin's Dictionary of Irish Biography entry on Penn.
I'm sure there are plenty more resources on Penn out there so feel free to add any you have found useful below.