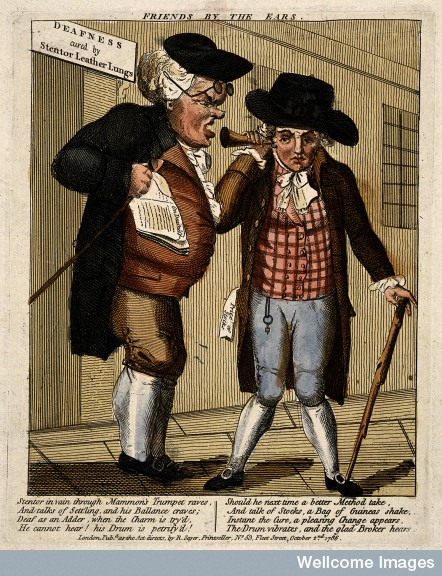 We've written quite a few posts with links to online resources for printed material, maps, and images at this stage but I don't think we've written a post focussing on audio and visual podcasts yet, so here's a list of a few podcast series that you might find useful…
The 'History of the Eighteenth Century in Ten Poems' series has ten short audio podcasts illustrating everyday, extraordinary and comic aspects of eighteenth-century life covering a range of topics including smallpox, war, epigrams, cricket, food and tobacco. You can listen to the series online or download the podcasts via iTunes University. This podcast series showcases a selection of material from the University of Oxford English Faculty's Digital Miscellanies Index (the beta site is now available).
There is an archive of podcasts from the Institute of Historical Research's 'British History in the Long 18th Century' seminar series available here. This series provides audio podcasts on a wide range of topics, including vagrant removal; hangings; and secularisation in England. There are also several podcasts of Irish interest, including one on Irish crime in London, and one on firearms and inter-communal violence in Armagh.
The University of Warwick has a series of audio podcasts on Georgian Britain dealing with a range of themes, including religious identity, political identity, popular protest, the electoral system, imperial identities, consumerism, slavery, print culture and gender. You can listen to, or download, this podcast series here.
Finally, the University of Edinburgh has a video podcast series in which global leaders in various fields examine aspects of the Enlightenment's legacy in the context of present day concerns. Lecturers include John Beddington, Robert Winston, Mary Robinson, Stefan Collini, Aubrey Manning, Amartya Sen, Jon Snow, Steve Jones, Joseph Stiglitz, Irene Khan and Daniel Dennett. The podcasts are hosted on YouTube and you can access the list of available lectures here.
There are plenty more podcasts of eighteenth century interest out there so I will do another post on the topic in the near future. In the meantime, if you'd like to recommend a podcast or podcast series you've enjoyed, feel free to do so in the comment section below.