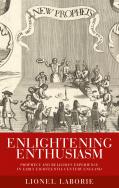 In the summer 1706, three Protestant refugees from the last French war of religion arrived in London to prophesy the fall of Rome and Christ's imminent Second Coming. They claimed to be inspired by the Holy Spirit, experienced bodily agitations and sought to revive the apostolic Church. Within two years, these 'French Prophets' counted nearly 500 followers, including Huguenots, Anglicans, Philadelphians, Quakers, Presbyterians, Baptists, Quietists and even Jews. Their movement launched missionary tribes after failing to resurrect one of their members from the dead and spread across Europe. They remained active in Britain until the late 1740s, reappearing sporadically among the first Methodists, Moravians and Shakers.
The French Prophets sparked one of the greatest controversies in eighteenth-century England, marked by a prodigious battle of pamphlets on revealed religion and miracles, violent riots and a political trial. They were branded as 'enthusiasts', then a derogatory label for religious fanaticism, but one whose modern representation largely draws upon the hostile discourse of Augustan moralists.
In his new book, Enlightening Enthusiasm: Prophecy and Religious Experience in Early Eighteenth-Century England (Manchester University Press, 2015), Lionel Laborie examines the nature of religious enthusiasm against the backdrop of the early English Enlightenment. It offers the first comprehensive approach to enthusiasm by looking at this multifarious issue from a social, religious, cultural, political and medical perspective. Based on new archival research, it challenges our modern understanding of this originally infamous term by dissociating religious experience from millenarianism, radical dissent and popular religion, to shed new light on the reality of enthusiasm in early Enlightenment England.
The book can be ordered from Manchester University Press. Follow this link for further information.