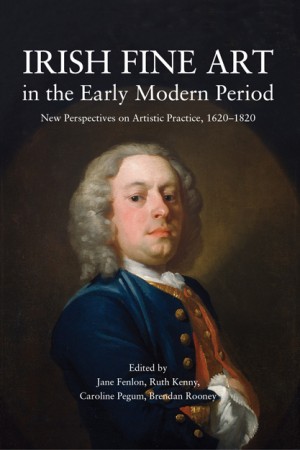 Irish Fine Art in the Early Modern Period edited by Jane Fenlon, Ruth Kenny, Caroline Pegum, and Brendan Rooney presents the finest contemporary research on Irish fine art from the 17th and 18th centuries. The contributors, both established and emergent Irish art historians, approach the production and reception of fine art in this period with substantial new work on a wide range of fascinating themes.
Table of Contents:
'Parliament as Theatre: Francis Wheatley's The Irish House of Commons Revisited', Fintan Cullen.
'Theft, Concealment and Exposure: Nathaniel Hone's The Spartan Boy', William Laffan.
'Commerce, Conquest and Change: Thomas Hickey's John Mowbray, Calcutta Merchant,attended by a Banian and a Messenger', Siobhan McDermott.
'Artistic connections between Dublin and London in the early-Georgian period: James Latham and Joseph Highmore', Jacqueline Riding.
'The "Strange and Unaccountable" John Van Nost: The Making of a Sculptural Career in Eighteenth-Century Ireland', M.G. Sullivan.
'An Irish Teniers? The Development of Paintings of Everyday Life in Ireland,c.1780–c.1810', Mary Jane Boland.
'The Portrait Collection in the Great Hall of the Royal Hospital Kilmainham, Dublin', Jane Fenlon.
'The Contribution of Foreign Artists to Cultural Life in Eighteenth-Century Dublin', Nicola Figgis.
'Visualising the Privileged Status of Motherhood: The Commemoration of Women in Irish Funerary Monuments, c.1600-c.1650', Elaine Hoysted.
For further information, follow this link to visit the Irish Academic Press website.