Recently, I came across a broadside ballad entitled, What call have you Ned, published in 1805. The image below is from a copy of the broadside held at the The British Museum. As you can see, this copy features a hand-coloured etching.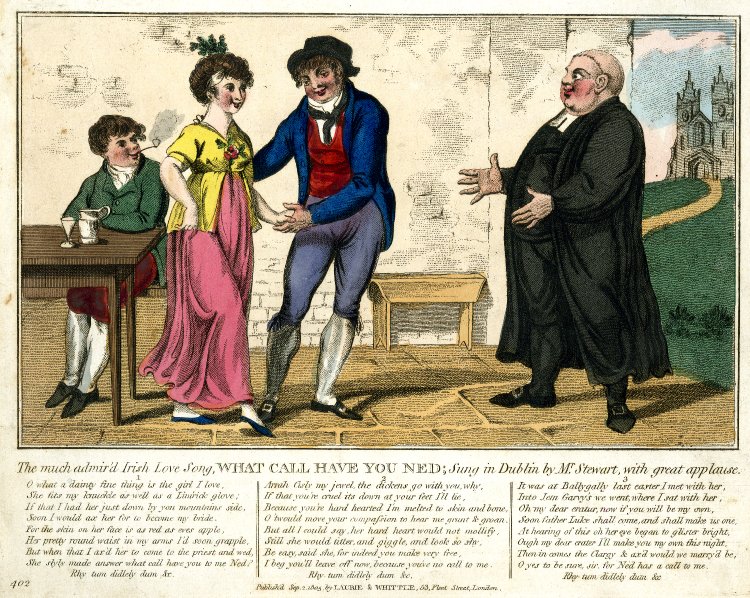 I also found two other less colourful copies of the ballad: a high resolution version in the Lewis Walpole Library Digital Collection; and a low resolution version in the Bodleian Library Broadside Ballads Online website.
Just in case you are wondering, a broadside is basically a large sheet of paper, printed on one side. They were cheap to produce and were used for a range of publications including proclamations, advertisements, gallows speeches, news, political arguments, and of course, song-lyrics and illustrations. For more information about broadside ballads, take a look at the The Broadside Ballads Online website or visit their (very interesting) blog.
The etching for this broadside has been attributed to Isaac Cruikshank (1756?-1811?), the Scottish painter and caricaturist. After studying with a local artist, Cruikshank moved to London in 1783 and the following year published a book of etchings of Edinburgh characters entitled, Scotch Eloquence. Thereafter Cruikshank produced hundreds of caricatures and satirical prints. While he is perhaps best known for this kind of work, he also exhibited watercolours at the Royal Academy, illustrated books, and spent time working at the British Museum on illustrations for George Shaw's, General Zoology (1800–26). Both of his sons, Robert and George, went on to become notable graphic artists.
I have come across other prints by Cruikshank on Irish themes and will make sure to feature some on the blog in future. However, I have been less successful finding information about the singer, 'Mr. Stewart' who performed the ballad in Dublin. Please feel free to comment below if you know anything about him, or indeed, the ballad itself.
Here is a copy of the lyrics to What call have you Ned…
The much admir'd Irish Love Song, WHAT CALL HAVE YOU NED; Sung in Dublin by Mr. Stewart, with great applause

1
O what a dainty fine thing is the girl I love,
She fits my knuckle as well as a Lim'rick glove;
If that I had her just down by yon mountains side,
Soon I would ax her for to become my bride.
For the skin on her face is as red as eves apple,
Her pretty round waist in my arms I'd soon grapple,
But when that I ax'd her to come to the priest and wed,
She slyly made answer what call have you to me Ned?
Rhy tum didlely dum &c.

2
Arrah Cisly my jewel, the dickens go with you, why,
If that you're cruel its down at your feet I'll lie,
Because you're hard hearted I'm melted to skin and bone,
O 'twould move your compassion to hear me grunt & groan.
But all I could say, her hard heart would not mollify,
Still she would titter, and giggle, and look so shy,
Be easy, said she, for indeed you make very free,
I beg you'll leave off now, because you've no call to me.
Rhy tum didlely dum &c.

3
It was at Ballygally last easter I met with her,
Into Jem Garvey's we went, where I sat with her,
Oh my dear cratur, now if you will be my own,
Soon father Luke shall come, and shall make us one,
At hearing of this oh her eye began to glister bright,
Ough my dear crater I'll make you my own this night,
Then in comes the Clargy & ax'd would we marry'd be,
O yes to be sure, sir, for Ned has a call to me.
Rhy tum didlely dum &c