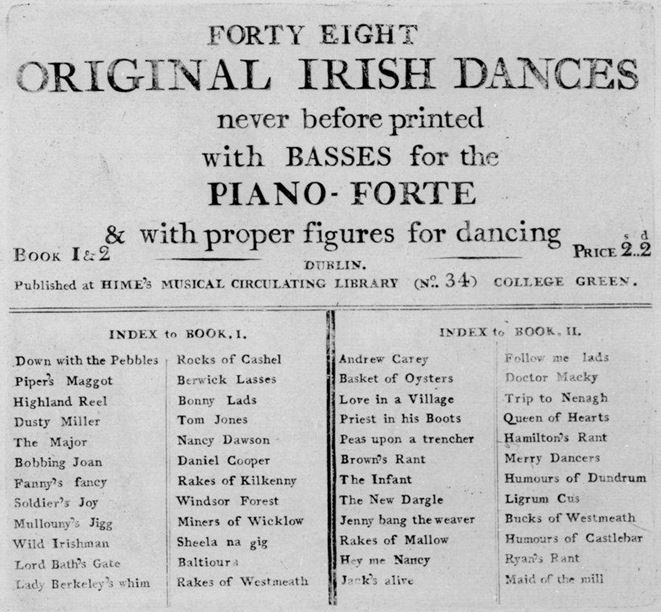 Anyone interested in Irish music and dance might like to take a look at Forty eight original Irish dances… Book I & 2 (Dublin, 1795). You can download your own copy from the Bibliothèque nationale de France's Gallica resource. The publisher and music seller, Morris Hime, sold the publication at his 'Musical Circulating Library' at College Green. Hime was originally based in Liverpool, but moved to Dublin in the early 1790s. After 1814, Hime's 'Musical Circulating Library' relocated several times, to Dame Street, Westmoreland Street, and later Eustace Street.
While it's great to be able to access printed documents like this online, it is also possible to listen to a number of tunes with the same titles as those mentioned in Hime's publication, including  'Priest in his Boots' jig, 'Piper's Maggot' slip jig, and 'The Maid of the Mill' jig, at thesession.org. Of course, I'm not sure if these tunes correspond with the musical notation in Hime's publication but if you are more musical than I am and can provide some more information, feel free to add a comment below!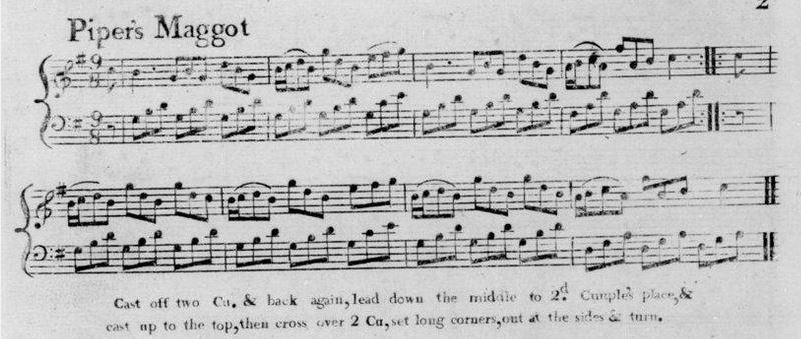 There are also versions of many of the dances mentioned on YouTube. The best video I've found so far is this version of the 'Piper's Maggot' from Stanley Kubrick's 1975 film, Barry Lyndon. Enjoy!