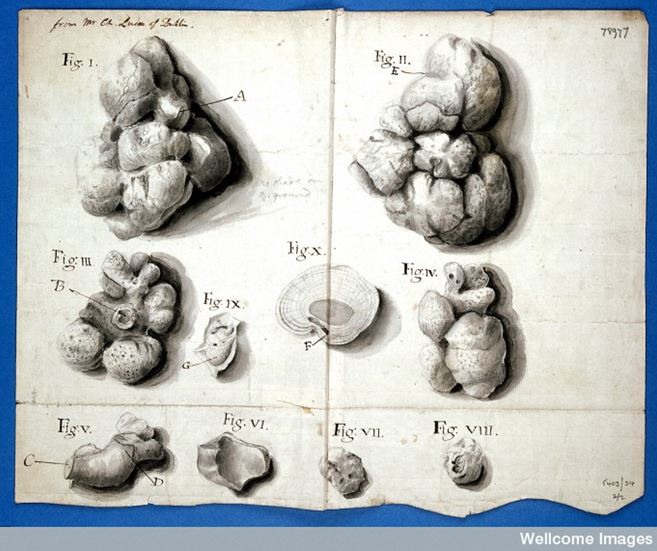 This image is a 'sketch in pencil and grey wash of kidney stones extracted from a woman'. It was drawn in 1746 and sent by Charles Lucas, a Dublin apothecary, to Martin Folkes, President of the Royal Society.  If you would like to take a closer look, you can download a hi-res version of the image from the Wellcome Images website (ref. WMS 5403/34 – or try searching for 'kidney stones, lucas').
I imagine that the sketch might be the work of the Charles Lucas, the Co. Clare born apothecary and radical politician, but I have conducted no research whatsoever to confirm this suspicion. Perhaps one of our readers might shed some light on the issue in the comment section below?
The image of the kidney stones was later published in Philosophical Transactions, the journal of the Royal Society. Many of you will be aware that Philosophical Transactions was published from the 1660s and is the world's oldest scientific journal. Perhaps not so many of you will be aware that back-issues of Philosophical Transactions, dating from 1665 to the 1940s, can be accessed for free by following this link.
The table of contents of the issue in which Lucas's image was published is available here, and the full article 'The figures of some very extraordinary calculous concretions formed in the kidney of a woman; communicated by Mr. Charles Lucas at Dublin' can be downloaded as a pdf here. If you like that sort of thing.